Stuffed cabbage rolls are delicious. BUT sometimes, time is limited. That's when making this crockpot unstuffed cabbage rolls is an excellent choice!
You get all the same ingredients and the same flavors, but with a fraction of the prep time. Unstuffed cabbage casserole is excellent straight out of the pan, but it is even BETTER the next day.
---
This post may contain affiliate links. If you make a purchase through one of the links from this site, I may receive a small commission. This doesn't increase your costs. It allows me to make a small commission to pay for the cost of this website, keep the lights on, and continue to provide free recipes and videos.
---
Plus, if you freeze it flat it will defrost in a sink of hot water, in like 20 minutes. It works great for a quick and easy meal option!
Also, you can cook it overnight or all day. Unstuffed cabbage dishes are very forgiving. And I mean by that, that you can cook it anywhere from 6 to 12 hours without anything drying out. Just add a bit more broth or tomato sauce and it will be delicious!
---
How to Make Unstuffed Cabbage Rolls in the Crock Pot Step by Step
Making this dish is very simple, here are the basic steps.
Brown and drain your ground beef.
Shred or thin cut your cabbage and onions & add to the cooked ground meat.
Add tomato sauce, crushed tomatoes, and chicken broth.
Add Italian seasoning, garlic powder, salt, and pepper.
Cook for 6 to 12 hours.
---
Slow Cooker Unstuffed Cabbage Rolls Supplies:
To make any meal, you need supplies. Unstuffed cabbage rolls made in the crockpot, pressure cooker or in a skillet…is no different. For the purposes of this recipe, we're using the slow cooker.
And the main things you'll need to make any sort of unstuffed cabbage in the crockpot are listed below.
Your choice of a slow cooker. For the recipe quantities listed in our printable recipe below, a 4 to 6-quart slow cooker is ideal.
You also need a sharp knife. It doesn't have to be expensive, just sharp. Cabbage is a bear to cut without a sharp knife. Victorinox knives are generally my favorite. There are many more options though.
You'll also need a cutting board. That's so you don't harm your countertops or dull your sharp knife. Rubber or glass is generally recommended over wood or bamboo. As it's easier to clean and keep sanitary.
Then, of course, you'll need your ingredients.
---
Unstuffed Cabbage Roll Casserole Ingredients
There are all sorts of unstuffed cabbage recipes. And the ingredients you can substitute makes it a very simple dish to create with supplies you have on hand or that you find on sale.
Really, the only ingredient that is standard crockpot unstuffed cabbage rolls casserole is cabbage. That's right, there are substitutes for just about every other ingredient in this recipe.
Here are a few substitution ideas for the ingredients. Don't be afraid to experiment a bit. Just substitute one thing here and there and you'll have your own personalized unstuffed cabbage rolls recipe in no time.
---
Cabbage for Unstuffed Cabbage Roll Making
Regular green cabbage is your first ingredient in making any sort of unstuffed cabbage recipe. There are all sorts of cabbages and there is usually one at peak any time of year.
Green cabbage has a Fall harvest season. It's best harvested when the weather is cool. It makes it much sweeter.
From that statement, many folks will derive that I garden. Or visit a lot of farmer's markets. I do both frequently now.
Eating seasonally and healthier has made us feel much better. Don't get me wrong, you'll still see LOTS of quick and easy recipes all through this website. But there will be homemade options for when time allows as well.
---
Using Fall Harvest Cabbage
Cabbage will keep for weeks when kept cool. That does NOT have to be your refrigerator. I visited a local Amish farm for the cabbage in this recipe. And now I have an extra head of green cabbage and another of red cabbage both sitting on my kitchen counter.
Now, can I leave them there long? Nope. I'm guessing 3 to 5 days max. But I don't have a huge refrigerator. So, there they sit. And they are both doing okay. To use them I'll have to peel off a few of the outer leaves but that isn't a huge sacrifice.
All that being said, any cabbage is going keep longer in the refrigerator. I've had very usable cabbage in my crisper tray for several weeks in fact. Just don't wash it prior to putting it in the vegetable bin. Wait and do that right before using it.
---
Health Benefits of Cabbage
One other thing you might be interested to know about cabbage…Did you know cabbage is good for you? I mean REALLY good for you. Like superfood level good for you. And it's our main ingredient in crockpot unstuffed casserole! Woo hoo!
Cabbage is full of vitamins and minerals. It's low in carbohydrates and is fat-free too.
If you add the health benefits of cabbage in with the fact it's both very inexpensive and that it's generally available year-round, it's an excellent option for many, MANY recipes and budgets.
Quick Tip for Making Low Carb Unstuffed Cabbage Casserole
If you are a low carb dieter and your family is not, here's a quick tip. Make our recipe for unstuffed cabbage casserole. Twenty minutes before serving, add cooked rice to half the dish. Everyone will be happy, and you'll not have to cook to full, separate meals.
You can also check out a few of these other unstuffed cabbage casserole options (scroll down just a bit to see the additional yumminess). Some of these options use rice, others don't. All provide possibilities for deliciousness!
---
Unstuffed Cabbage Roll Meat Options
Ground Beef is the primary meat usually used when making any sort of unstuffed cabbage recipe. BUT you really shouldn't limit yourself.
Both ground pork and ground sausage are delicious options. You can also mix it up a bit and use half beef and half pork.
There are TONS of options. Here are a few ideas…
---
Crockpot Hamburger and Cabbage Unstuffed Casserole
This one is our recipe and the one you see images for throughout this article. You can jump to the printable recipe here. It isn't quite traditional, as it doesn't contain rice.
We're not completely low carb eaters, just limited. Limiting our carbohydrates has improved our overall health. So, we eat them sparingly and for splurges. Thus, limited rice for us. But it CAN be added if you choose.
---
Unstuffed Cabbage Casserole Rolls with Rice
Brooklyn Farm Girl has a delicious looking Unstuffed Cabbage made in her slow cooker. Her recipe is very similar to ours and looks amazing!
Her recipe does indeed include rice for those wanting to go the more traditional route. And she also uses uncooked ground beef, green peppers, and Worcestershire sauce.
This one would be an excellent option for when you just have way too much to get done in too little time. Toss together, follow directions and proceed as needed. Very cool.
---
The Rustic Foodie has a yummy looking Cabbage Roll in a Bowl option. And this recipe is a stove-top option. So, it's quick and easy.
It uses very traditional ingredients like ground beef, rice, and green cabbage. But it also has the additions of apple cider vinegar and smoked paprika for a delicious flavor combination.
---
Simply Stacie has a super traditional, super easy stove-top cabbage roll rice recipe too!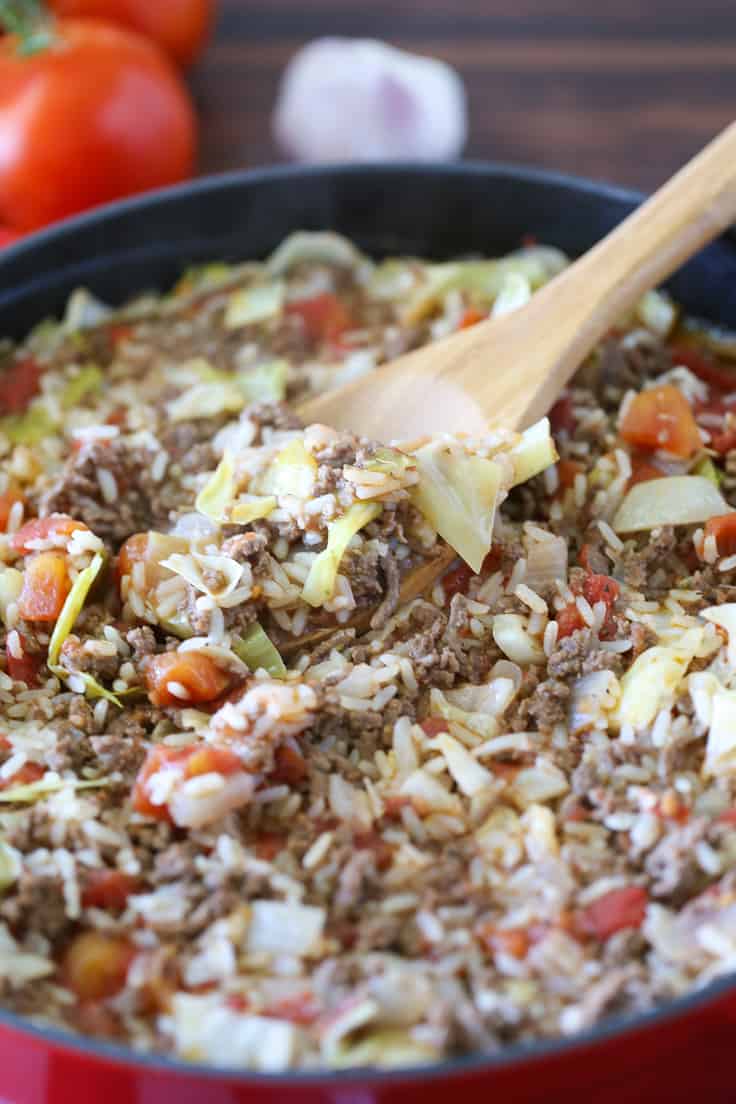 It's one of those one-pot meals that you can prep, then allow to simmer while you do a couple of chores. This one would be an excellent option for busy days.
---
Kellie from The Suburban Soap Box's stuffed cabbage soup is worth a gander too! It's soupy. Hey! It's a soup…but it's not TOO soupy. It looks very hearty and delish.
This recipe is also a stove-top version. And it's made with rice, plus she uses both crushed and diced tomatoes. BUT, she also uses brown sugar and grated apples! That's a flavor combo that'll be a complete taste-bud blast.
---
Paleo Unstuffed Cabbage Roll Casserole
Here's a completely different twist on cabbage roll casserole! Ellen from Confessions of an Over Worked Mom has created a delicious looking unstuffed Paleo cabbage rolls recipe.
She utilizes chicken sausage and mushrooms, along with the standard green cabbage. Hers is a stove-top version so it goes together quickly for those busy, busy weeknights when you didn't toss something in the crockpot!
---
Chicken Scratch NY has another delicious-looking Paleo option simply titled Stuffed Cabbage Casserole. Her option is a yummy looking one-pot meal that uses cauliflower as a rice substitute.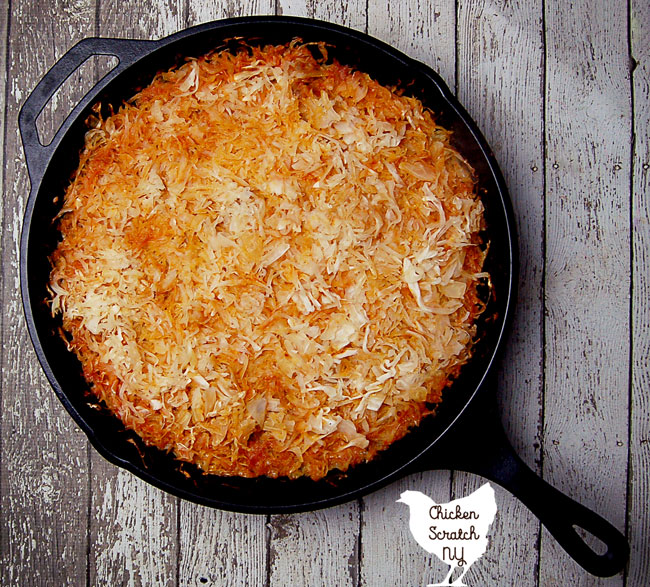 She also makes use of her cast-iron skillet for this recipe. Cast iron skillets are excellent options from going from stovetop to oven-baked using the same dish. Plus, if you invest in a good one, you'll never purchase a second!
I inherited some of my Mama's cast iron that she inherited also. I still use it frequently. You can see in action over at Crockpot Tater Tot Casserole.
---
Slow Cooker Cabbage and Sausage Casserole
Berly's Kitchen has a pretty traditional unstuffed cabbage recipe that she's created in her Instant Pot. She uses half ground beef and half ground pork like I was yacking about earlier.
And this recipe also has rice, so again, it's the more traditional approach to making cabbage casserole. She also adds paprika and ketchup to her recipe. This will give you a completely different flavor from the Italian seasoning.
---
Pressure Cooker Stuffed Cabbage Options
Justine from The Typical Mom offers up TWO unstuffed cabbage options. She uses her Instant Pot to make both.
This first option is a delicious looking Instant Pot Cabbage Soup. She uses ground sausage, lots of garlic, and Worcestershire for a powerful flavor punch.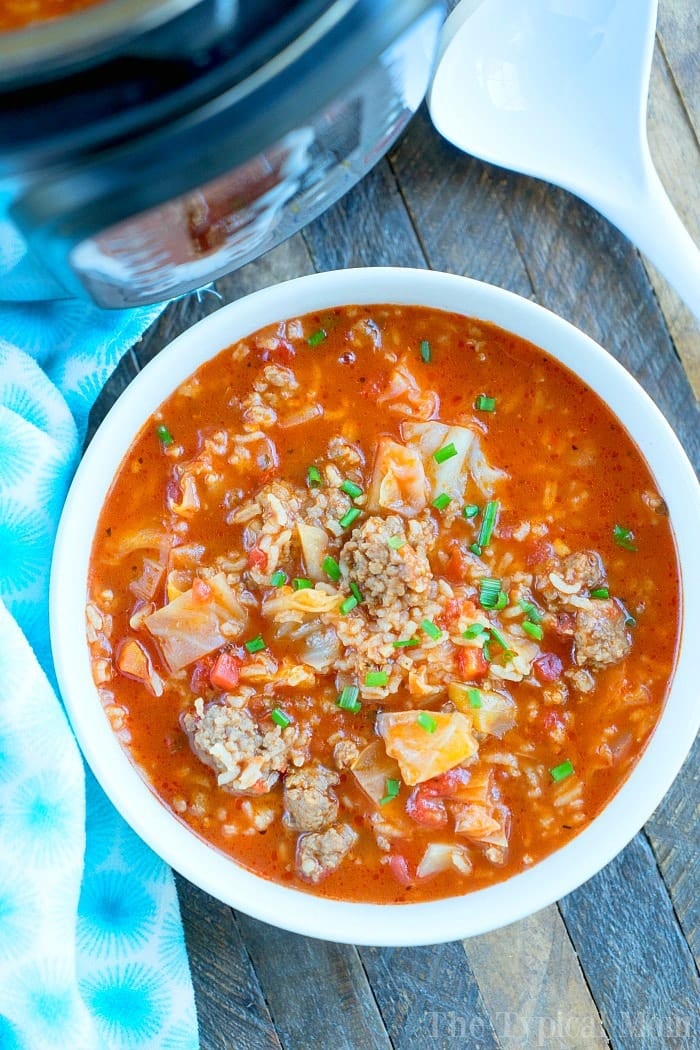 ---
Justine's second offering is an Instant Pot Stuffed Cabbage Casserole. It uses a lot of the same ingredients as her soup.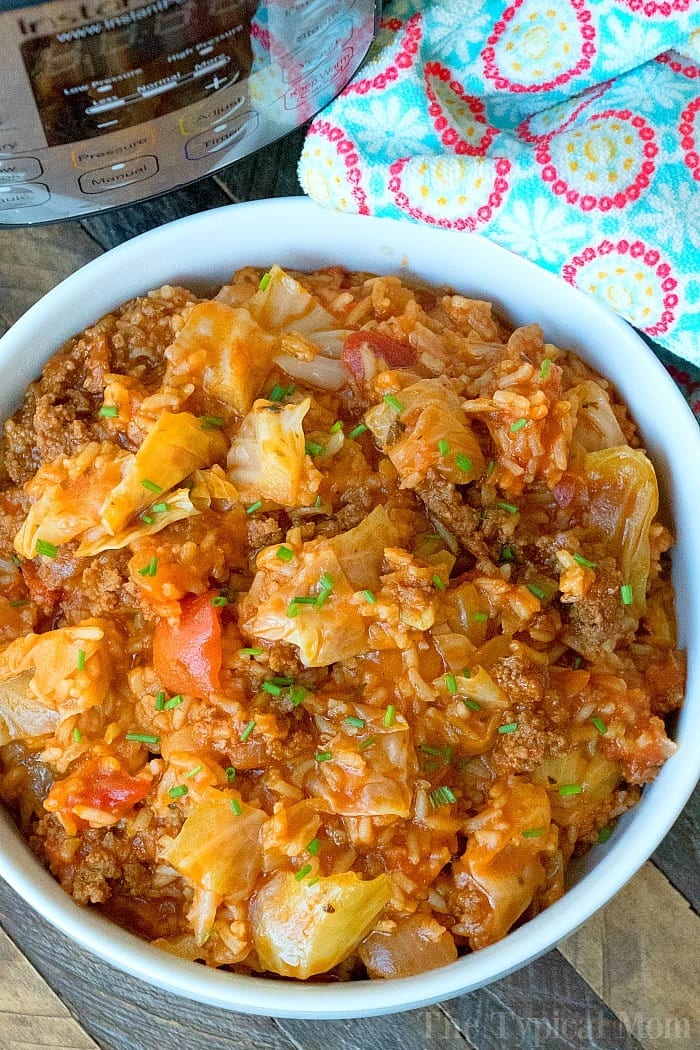 Both her recipes take the smart short-cut of dumping in a jar of spaghetti sauce. Both recipes are simple and look delicious.
---
Baked Cabbage Casserole Options
Scott from Platter Talk has a yummy looking baked version called Lazy Mans Deconstructed Stuffed Cabbage. It honestly reminds me of a combination of a noodle-less lasagna and meatloaf combined.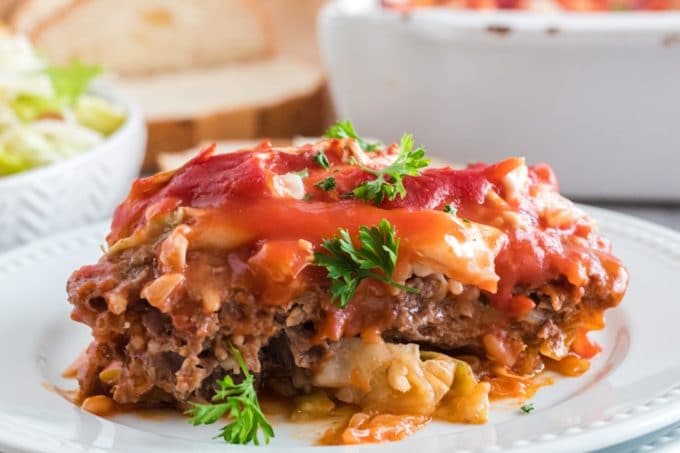 He's recipe utilizes rice, ground beef, and tomato soup. BUT with the addition of bacon! That's a surprisingly different ingredient. Talk about added deliciousness.
---
More Meat Options for Lazy Cabbage Roll Casserole
But what about if you don't "do" beef or pork? I have a Mama that can't eat beef. I have a sister that doesn't eat pork. So, what to do if you don't want to go the veggie route?
Boneless, Skinless Chicken Thighs or Breasts
You can jazz it up and use boneless, skinless chicken breasts or thighs. You can even use pre-cooked chicken.
Because chicken thighs are dark meat, they aren't going to dry out as fast as breast meat. But if you use the pre-cooked option, it will still dry out during a full six-hour cooking cycle. So that it doesn't, it's best to add it during the last 20 to 45 minutes of cooking.
Pork Tenderloin or Roast
You can also try using leftover Crockpot Pork Loin. Slow cooker pork tenderloin leftovers can be used for a LOT more than sandwiches. Pizza, pasta, casseroles, etc.
But this post is about unstuffed crockpot cabbage, so we'll not deviate too much. If you're interested in learning more about the many uses for crockpot pulled pork, you can read more about that in the links provided above.
Now on to the many different sauces you can use when making unstuffed crockpot cabbage rolls!
---
Easy Cabbage Casserole Sauces
The main liquids I generally use in making any sort of cabbage casseroles are tomato sauce, crushed tomatoes, and beef broth. It seems, to me, to be even more important when making this crockpot unstuffed cabbage. 
It's weird but true. And your taste-buds are not MY taste buds, but there is a significant difference between using something as closely related as crushed tomatoes vs diced tomatoes. 
Don't get me wrong. Both taste wonderful. BUT if you're looking for a specific taste, like a "comfort food" you've had before, it IS different. So be aware when subbing stuff out that this can happen.
Anyways...Each liquid can easily be substituted from something you already have in your pantry or that's on sale.
Side Note: Sadly, I miscalculated my pantry stock before making this recipe and was out of beef stock. And nope, no homemade beef stock in the deep freeze either. So, though beef stock is our favorite option, this recipe is using chicken broth. No worries, it's still delicious!
Crushed tomatoes - You can use diced tomatoes here if you prefer. If you do, your completed recipe for unstuffed cabbage is going to look more like the image below instead of the images all over this article.
I personally prefer the crushed tomatoes instead of the diced ones. That is a personal preference, but I think it has more flavor.
Tomato Sauce – You can also use tomato juice, vegetable juice or simply add more broth. Each different thing IS going to change the taste. Our personal favorites are either tomato sauce or vegetable juice.
Some sort of broth or stock is your next ingredient. It can be store-bought or homemade. You can use chicken, beef, or vegetable. Each is going to give you a slightly different flavor. Most people tend to use chicken broth, but we prefer beef stock. Stock has a much richer flavor and we prefer it. But again, it's a personal preference and I do use the other options as needed.
And without further ado, here's the printable recipe for our own crockpot unstuffed cabbage rolls casserole! You can print it, bookmark it or scroll down a bit more and pin it for later.
Whatever works for you! Happy cooking! Holler if you need any clarification or have questions.
---
Printable Recipe for Slow Cooker Unstuffed Cabbage Rolls Casserole
Recipe
Crockpot Unstuffed Cabbage Rolls Casserole
Stuffed cabbage rolls are delicious. BUT sometimes, time is limited. That's when making this crockpot unstuffed cabbage rolls is an excellent choice!
Equipment
kitchen knife

cutting board
Instructions
Slow Cooker
Brown the ground beef and onions in a skillet, over medium-high heat (or use our make-ahead ground beef recipe the night before). Drain and add to crockpot.

Combine all the ingredients in a greased slow cooker insert. Cook on low for 6 to 12 hours.

Refrigerate leftovers for up to 3 days. Freeze leftovers for up to 3 months.
Instant Pot
Use the saute function to brown the hamburger meat and onions. Drain grease. Pour meat into a seperate bowl.

Add spices, broth, tomatoes, and tomato sauce to meat. Stir well to combine.

Add half the shredded cabbage to the instant pot. Top with half the meat-sauce mixture. Repeat.

Close and lock lid. Close pressure valve. Manual high for 5 minutes. Natural release for 8 minutes, then quick release.

Stir well and allow to rest about 5 minutes before serving.
Oven
Preheat the oven to 350 degrees.

Precook the ground beef per any of the methods listed above. Drain most of the oil.

Combine the ground beef, tomato sauce, crushed tomatoes, and seasonings.

Use a large, deep skillet to saute a half head of cabbage at a time over medium-high heat in either oil or butter; 5 to 8 minutes per batch.

Butter or oil a 9 x 13 casserole dish.

Layer 1/2 the cabbage mixture; half the meat sauce mixture. Repeat.

Cover dish with lid or foil. Bake for 20-25 minutes. Remove, add cheese if desired, and bake an additional 20 minutes uncovered.
Freezer
Cook the ground beef and onions until no longer pink. Drain and allow to cool slightly and pour into 1-gallon freezer bag.

Add the tomato sauce, crushed tomatoes, spices, and broth. Zip close and knead to combine. Lay flat and remove any excess air if needed.

Pour the shredded cabbage into a second 1-gallon freezer bag. Use painter's or freezer tape to tape the bags together. Freeze for up to 6 weeks.
---